"The Lord bless you and keep you, the Lord make his face shine upon you, and be gracious to you, the Lord lift up his countenance upon you and give you his peace." (Numbers 6: 22-27 ). MAY THE LORD JESUS AND ST. JOSEPH OUR PATRON OUR BLESSED MOTHER MARY KEEP US ALL IN GOD'S LOVE-ALWAYS...!!
Dear Friends, we wish God's continued blessings on all of you in this new academic year starting from June 2012...
We have a new team in place with Fr. Jude Rodrigues as Priest-in-Charge and Fr. Vijay Drego continuing as Assistant. We warmly welcome Fr. Jude and wish him and Fr. Vijay ..all the very best...
And a "goodbye and all the best" to Fr. Austin Norris, who served our parish for seven years. We wish him God's blessings as he takes over as Parish Priest, at St. Anthony Church, Malwani, malad ( West). Thank you Fr. Austin.
On the Church Building front we have selected a design and an architect and we hope to get the OK from Bishop's house, to process our papers and move on.
May St. Joseph bless all our donors and well-wishers, as well as our dear parishioners as well. Hail, Holy Joseph Hail. God Bless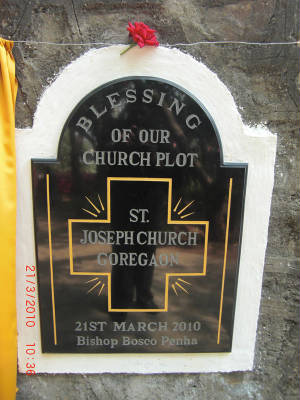 Prayer for Priests- in the Year dedicated to Priests
Prayer for our Church Building Project
First Communicants -2011 - 30th April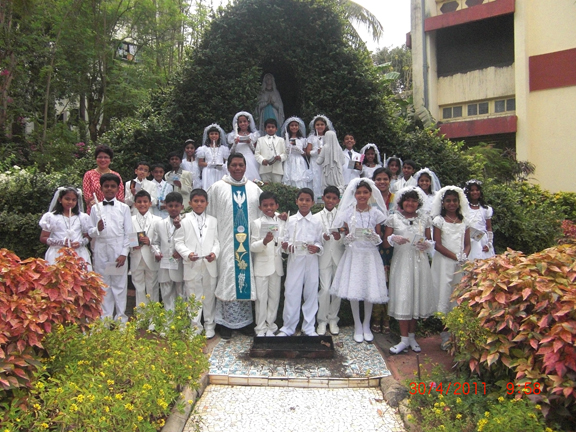 Parish Feast:Triduum & Feast Day 22nd March 2009
We are in the Fund Raising mode for our Church Building Project. Your generous contributions are most welcome. You may send in a cheque on ST. JOSEPH CHURCH TRUST - BUILDING FUND, and post the same to our address given below. Please include your complete name and postal address as well. You will be duly receipted for the amount. If your donation is above Rs. 10,000/=, please do mention your PAN number. Thank you and may St. Joseph bless you and your loved ones.

Fr. Jude Rodrigues

Priest-in-Charge

*****************************
SEPTEMBER FUNDRAISER AT BANDRA
Welcome to our web site! God Bless you and your own.Thanks for logging in.
St. Joseph Parish Community was born on 12th December 1988, with the Oblates of St. Joseph, being the first shepherds of the community.
Since then, the community has grown from a few hundred to nearly two thousand catholics. The area of our parish is quite vast and covers a newer part of the suburbs of Mumbai.
The quaint situation of our parish community is that we have no Church building and Parish house as yet. Our liturgical services and meetings are held at the nearyby Convent of St. Joseph, which is run by the Congregation of the Franciscan Hospitaller Sisters of the Immaculate Conception ( CONFHIC).
The two parish fathers live in a rented apartment, which is situated within a short distance of the Convent Chapel. This premises also serves as a Parish Office and meeting place for parishioners.
As you browse through these pages, we hope you come to know a little more about our parish community, which is "the living Church". We solicit your prayers and support in our endeavour to build a Church and Rectory.
May St. Joseph, our Patron, bless you and your own.

Fr. Jude Rodrigues
Priest-in-Charge